So you have finally finished your woodworking project and it is time to apply the stain but you may be wondering how long will it take for that stain to dry before I can move on to applying a polyurethane topcoat. So how long does it take a stain to dry?
Most wood stains take between 1 hour to 48 hours to completely dry for a single coat of stain in optimal conditions. The drying time will vary depending on which stain is being used.
There are many other factors that will influence this drying time like the characteristics of the wood and environmental conditions at the time of application.
If you are wishing for a perfectly stained wooden surface, keep reading the article. I'll try to answer all your questions and will also give you some tips.
What are the different stains and their drying times?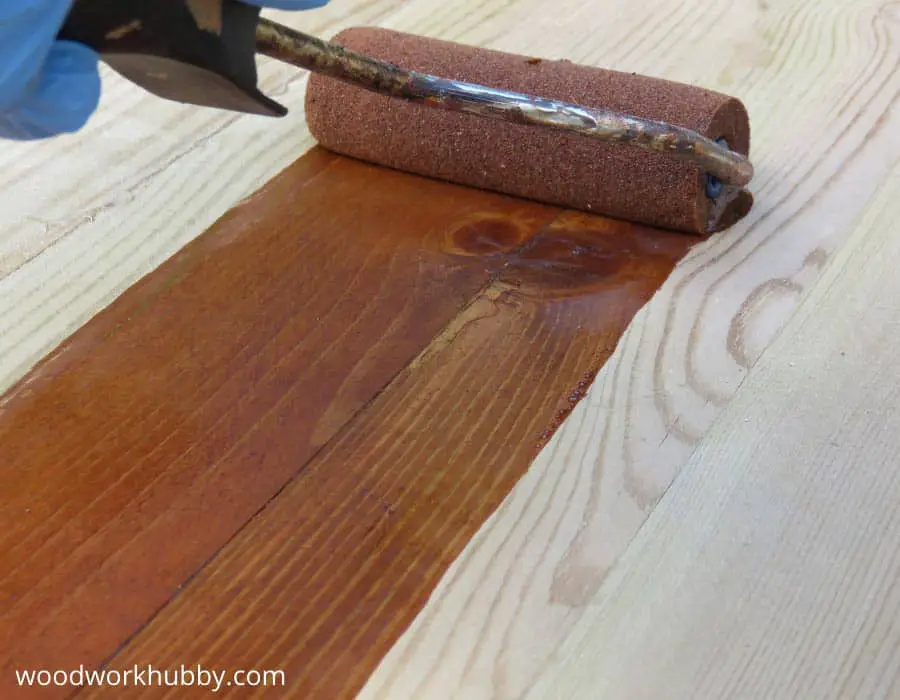 Some stain products take 12 to 24 hours to dry while others take around 6 to 12 hours. The time taken by the stain to dry will heavily depend on the type and the brand of stain used.
Therefore, it'd be wrong to assume that all stain products will dry up at the same time. There is a range of different wood stain products available in the market, having different drying times.
When you use thick penetrative stains, it penetrates right into the wood and seals it. Thus, the top appears to be dry within a few hours. You can apply a thick stain. Wait for 1 or 2 days and test the surface.
If a penetrative stain is applied very thickly, then it might take longer to dry up or in the worst cases, remain sticky to touch even after much time has passed.
If you apply thinner non-penetrative stains, it will take a few weeks to dry up completely. You should consider leaving it as it is for 1 week or more than that before applying the next coat.
Latex stains need a considerably longer time to dry up entirely. It might take around 2-3 weeks. These stains are rarely used on most woodworking projects.
The following table contains the average drying time of different stains when only a single coat is applied:
| | |
| --- | --- |
| Stain Type | Drying Time |
| Interior Water Based | 1-2 hours |
| Interior Oil Based | 2 hours |
| Exterior Water Based | 24 hours |
| Exterior Oil Based | 48 hours |
| Gel Based | 10 hours |
Table showing stain drying times
Popular Stains Drying Time
Now that you know a general overview of stain drying times, let's take a look at some of the more popular stains I and others use to see what their particular drying times are.
Stain Type
Image
Drying Time
Notes
Behr Oil
Based Stain
1-2 hours
72 hours needed
to fully dry
before top coatCabot's Oil
Based Stain
Cabot's Oil
Based Stain
24-48 hours
Easy to use stain
Minwax Standard and Performance Stain
2-12 hours
Recommend 8 hours before
Re applying
Minwax Gel Stain
24 hours
Re-coat in 8-10 hours
Minwax Water
Based Stain
3 hours
Re-coat after 5 hours
Varathine Standard
Stain
2 hours
Touch dry after 1 hour
Varathine Gel Stain
2 hours
Wait 8 hours before re-coating
Osmo Stain
12 hours
Can take longer depending on temperature
Olympic Elite Stain
24-48 hours
Remarkable quality stain
Wood Stain By
General Finishes
3-4 hours
Depending on temperature
Factors That Affect Drying Time
Brand: The drying time of the stain depends on the brand that you choose. Some take 6-12 hours to dry up while some require 12-24 hours. I advise checking the label on the can to see what its exact drying time is and how long you have to wait before you can recoat.
Temperature: Be mindful of the heat in the room where you plan to stain. The ideal temperature to stain as per industry experts is 50-85o F (10-29°C). Anything lower than this can affect the drying time of your stain.
Humidity: Stain drys by the pigments soaking into the wood while the moisture in the stain evaporates. If you try staining on a humid day or time of the year, this can significantly impact the drying time of your stain.
Avoid staining in humid regions. If your workplace is humid, change the spot. Do not stain in too much sun or too much wind. Try to stain in shade for better results. Don't stain on rainy days either for the best results.
Air circulation: The more air circulating in your workshop, the better. With sufficient air, the stain remains in place and the moisture goes out. Open windows and use fans for quick drying up of the stain.

How Can I Shorten The Drying Process?
Though I'll always advise following the manufacturer's guidelines, you can quicken the drying process in the following ways:
Increase temperature: You can increase the temperature to 80-90o F (26-32°C) to bring the drying time down. Remember, if the temperature goes beyond 90o F, then the stain will not be able to penetrate the surface and you will not get the desired result.
Use a fan: You can use a fan or open windows to help the stain dry up faster. This will also have no adverse effect. Try using oscillating fans. It will dry up the stain evenly.
Apply thinner coats: Apply thinner coats and you will see the stain drying up faster. Wipe off the excess stain using a clean cloth or brush but make sure you don't end up wiping off the stain.
For more information on staining drying times, check out the following video:
Helpful Hints For Drying Times
While buying and before using the stain, remember to read the outer label on the product can. It will give you all the details about the product directly from the manufacturer.
Look out for the information regarding the drying time of the stain so that you can plan when to apply polyurethane.
Stick to the guidelines or specific instructions of the manufacturer as mentioned on the product can.
Follow exactly the instructions printed on the label. Coming from the manufacturer, this is the most reliable and authentic information about the product.
Conclusion – How Long Does It Take Stain To Dry?
As you can see from above there are a lot of factors that affect stain drying times. As a general rule of thumb for most stains, I suggest allowing 24-48 hours of dry time before recoating or applying a finishing top coat of Polyurethane.
If you need to apply a second coat of stain, the drying time will likely take a little longer so please factor this in before applying any topcoats.
I hope this information has been helpful to you and please feel free to reach out to me and say hi.