For a long time, I made the mistake of using anything remotely soap-like to clean wood. Whenever anything in my workshop used to get dirty, I would take any detergent that was around and spray or soak the items. Many times I got lucky, and the detergent was right. But using Windex a few times taught me a tough lesson. So here is my detailed answer to whether or not can you use Windex on wood.
You can use Windex on wood only if you wipe it away and clean the wood surface with water and vinegar within a few minutes. The ammonia in Windex can darken or corrode wood if it sits on the surface long enough. Repeatedly using Windex on wood, even for short periods, can be dangerous.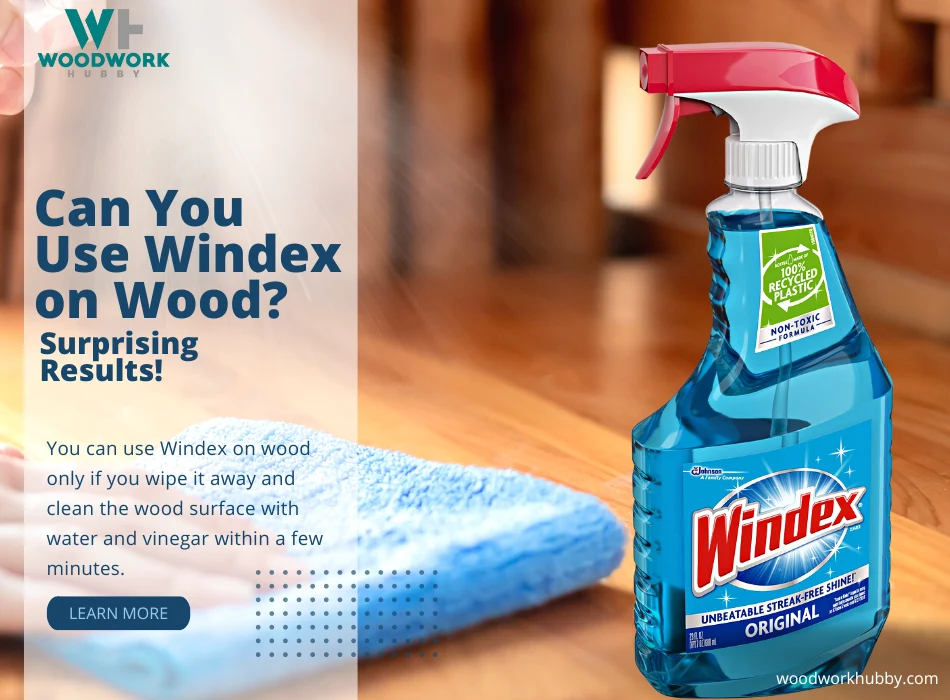 In this article, I share 20-plus years of my experience using different wood cleaners and finding the ideal ones. Everything in this post is also backed by authoritative sources, making it one of the most well-researched and comprehensive resources on which cleaners to use on wood, how to handle wood cleaning with Windex, and the multiple uses of extra Windex one might have lying around.
But first, let's look at the pros and cons of using Windex for cleaning wood.
| Pros of using Windex on wood | Cons of using Windex on wood |
| --- | --- |
| You don't need to buy a new wood cleaner | Windex can darken wood or create streaks |
| You can clear grease and oil in a few minutes | Repeated use of Windex can make wood weaker |
| It is easier to spray Windex than soak wood in wood-safe cleaner | You have to immediately clean Windex from wood |
A table that shows the pros and cons of using Windex on wood
Can You Use Windex on Wood?
You can use Windex on wood, but with caution since the ammonia in the Windex formula can damage the wood if left on the surface for a prolonged period.
People who don't know this end up in two categories.
The first doesn't use Windex on wood at all. This is relatively safe but leads to missed opportunities.
The second category consists of people who learn the hard way that you cannot soak the wood in Windex.
Consider the literature and content on ammonia fuming. It shows that the chemical has to be given over 12 hours to properly react with wood tannins. So as long as you undershoot that mark by a large margin, your wood surface is as safe with Windex as it is with any other cleaner. Soaking wood, in general, is a bad idea, regardless of the detergent or cleaner you use.
If you want to answer the question but with a more contextual understanding, I would suggest that you use Windex if you have it around and clean it off within 30 minutes. But if you don't have Windex at home, I wouldn't recommend getting it, especially for your wood surface, because you can find cheaper wood cleaners.
What Is the Best Thing To Clean Wood?
Before we dive into the top wood-surface cleaners, we must recap the following: You should get a wood-safe cleaner if you don't have Windex at home or don't want to take any chances because the wood item is very expensive. If this applies to you, you can feel free to buy one of these wood cleaners:
This is by far the safest wood cleaner because it is meant for daily use. Where other cleaners can have an adverse effect on wood (at least to an extent), this one conditions and strengthens it. It has an almond scent, which makes the cleaned surface pleasant to use almost immediately. I recommend it for table tops and wooden utensils.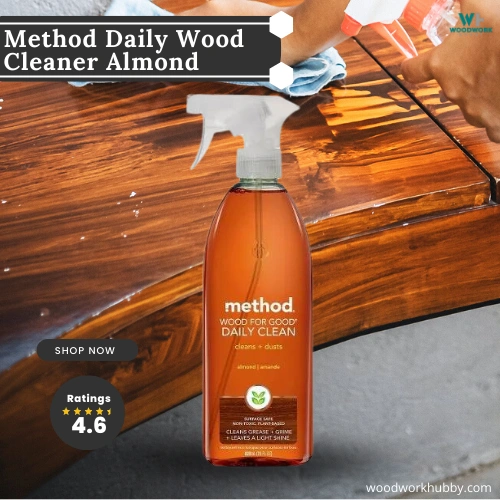 ✔️Gently and safely cleans and conditions wood.
✔️No-wax formula leaves no residue.
Method Daily Wood Cleaner has over 400 reviews, of which 87% give it 5 stars and 10% award it a 4-star rating. When 97% of the customers have a positive experience with a product, it is a safe purchase.
If you're getting a wood-safe cleaner to deal with spills and random stains, you can get wood cleaner wipes. They differ from other wood cleaners in the way they are used. You simply pull a single wipe out of the package and go over a wood surface, removing the dust and dirt while polishing the wood. 
Windex doesn't damage wood right away but might have a toxic buildup. After multiple uses, you can see the wood erode. With these polish wipes, you don't have to worry about buildup as the chemical composition of the products is 100% safe.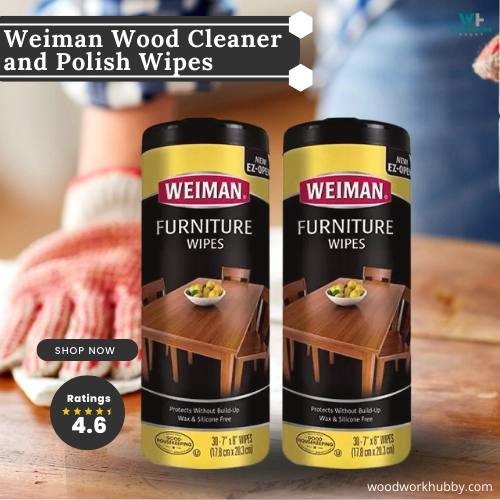 ✔️With the formation of a protective scratch-resistant layer, micro-filling technology eliminates scratches.
✔️Safe for children and dogs, with plant-based components.
✔️UVX15 is used to stop fading, dryness, and discoloration.
✔️Use it on finished wood tables, chairs, furniture, cupboards, benches, doors, and clocks.
It has over 1900 reviews and ratings that collectively come to a 4.6-star global average. That's impressive on a 5-star scale and with nearly 2000 verified customers.
Aunt Fannie's All-Purpose Wood Spray is a great surface-level cleaner for a house with multiple pieces of furniture, wooden floors, and plywood cabinets. When you have more wood surfaces than you can name off the top of your head, your wood cleaner needs to be compatible with every type of softwood and hardwood.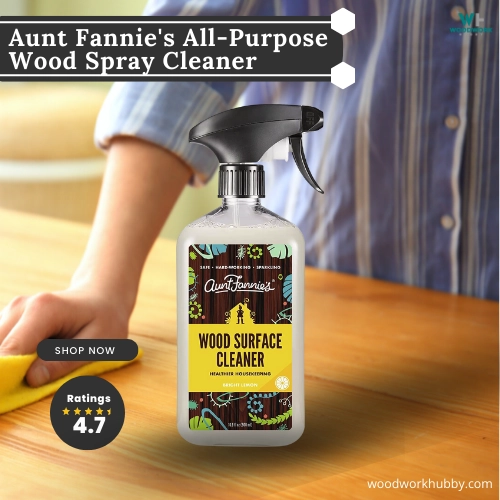 ✔️Specifically designed for wood surfaces, leaving no residue behind, requiring no washing, and leaving a super-clean gloss.
✔️With this concentrated, vinegar-free, all-natural spray that dissolves filth, food, oil, and grime, you can safely clean wood surfaces.
✔️Surfaces made of wood should be sprayed immediately, then sponged or clothed.
That's exactly what Aunt Fannie's All-Purpose wood cleaner is. It comes in a convenient spray bottle that can be filled up with any type of detergent once it is empty. So not only is the all-purpose cleaner compatible with a wide range of wood surfaces, but it is valuable even after you run out of liquid. It is safe for kids and pets because it contains safe chemicals and essential oils.
This floor cleaner is formulated for floors but can be used on other surfaces. What matters is that it is used on the type of wood that is usually used on floors. It can also be used on any floor type because, out of all the flooring options, wood is the most vulnerable. And a cleaner that is good for wood floors is good for most floors.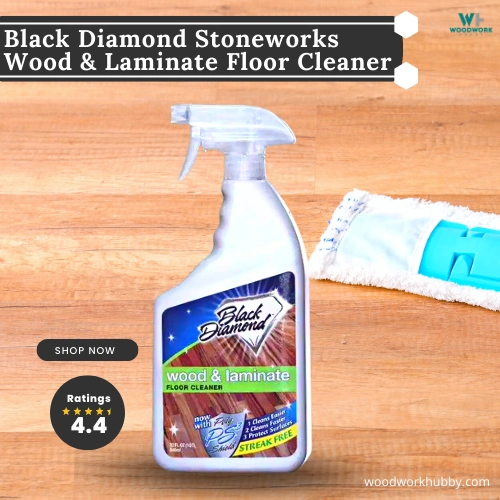 ✔️It's easy to use—just spray and wipe—removes spills, stains, grime, dust, oil, and footprints.
✔️Secure around kids and pets, sustainable and biodegradable.
✔️Excellent on any kind of engineered flooring made of wood or laminate.
✔️It has a no-rinse, hypoallergenic solution that consistently produces a clean, streak-free surface.
It has over 8000 reviews and ratings, and its global average stands at 4.4 out of 5 stars. With 84% of over 8000 verified customers giving it 4 or 5 stars, one can reasonably trust this floor cleaner.
This wood oil is a good cleaner for almost every finished surface. It costs $18 for 128 ounces, which is 10x better value than most spray-style cleaners. And its budget-friendliness doesn't reflect on its cleaning ability. It is made with 99% natural ingredients and has a high specific rating for its hardwood floor compatibility.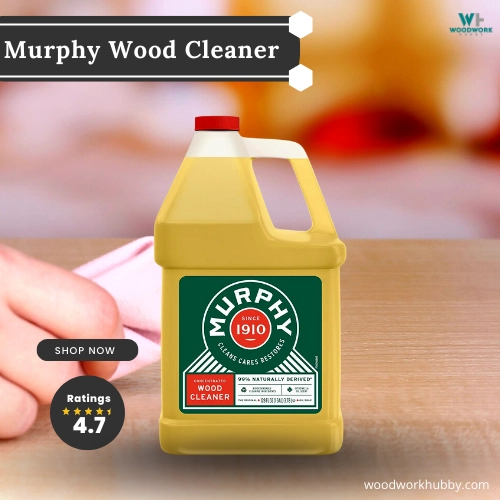 ✔️It removes dirt from hard surfaces and polished wood. It contains no bleach or ammonia.
✔️An excellent substitute for various surface cleaner products, this multipurpose wood cleaner, and finished surface cleaner is also perfect for cleaning wood.
✔️No rinsing is necessary. It works well with a mop.
With over 3,600 reviews and ratings, Murphy Wood Cleaner has a global average rating of over 4.7 out of 5 stars. This is among the highest for a wood cleaner. Its specific ratings include 4.5 stars for ease of use and the same for its scent. Above all, it has 4.7 stars for being good "for hardwood floors."
Can You Use Glass Cleaner on Wood?
You should not use glass cleaner on wood if you have other options. Glass cleaners have ammonia, which can damage the wood with prolonged exposure. To use a glass cleaner on wood, you need to make sure that the surface is sealed and that the cleaner stays on the wood for a short while.
In my experience, the following best practices need to be upheld when using glass cleaner on wood.
Use glass cleaner only once. The ammonia exposure, no matter how short, leaves a minute residual footprint. If you start using Windex or other glass cleaners on the same surface repeatedly, you'll notice dark patches and deterioration.  
Avoid soaking the wood. If you don't have any other cleaner to wipe up ugly residue from wood, it makes sense to use a glass cleaner with caution. That doesn't give you the license to drench your furniture in an ammonia-rich detergent. It is advisable to be as light as you can be when you use a glass cleaner on wood.
Make sure the wood is not untreated. No matter how cautious you are, if the wood is untreated, it will get damaged almost immediately after it gets sprayed with a glass cleaner. That's why it is crucial not to expose untreated wood to any type of cleaner until the surface is appropriately coated. 
What Kind of Cleaner Can You Use on Wood?
You can use a wood cleaner or an uber-diluted version of dishwashing soap on wood. Both options have their respective pros and cons. Generally, a wood cleaner is better for deep cleaning, while diluted dishwashing liquid is a usable solution to clear dust from wood.
The main advantage of using dish soap is that you probably already have it at home. It needs to be diluted with 20 parts of water in order to be the right potency for wood. You can spike it with a few drops of white vinegar to make it better at removing grease. 
But you cannot infinitely improve the formula by dumping more white vinegar into it. If you want a cleaning solution that leaves wood surfaces spotless, you should get one of the wood cleaners recommended above.
Can You Use Windex Multi-surface Cleaner on Wood?
Windex multi-surface cleaner is good for multiple glass and non-glass surfaces but is not recommended for use on wood. The "multi" in "multi-surface" refers to glass, chrome, tinted windows, mirrors, stainless steel, vinyl, and plastic surfaces.
Windex itself cautions users against using the multi-surface cleaner on wood. This is because the multi-surface cleaner also contains Ammonia, just like regular Windex. And both formulae can harm wood with repeated or prolonged exposure.
There is plenty of evidence regarding Ammonia's effects on wood, including darkening and corrosion, so it is better to use a super diluted soap solution to clean wood than to use a bottle of Windex that's lying around the house.
Is Windex Safe for Wood Furniture?
Windex is not safe for wood furniture but can be used to clean the fabric and non-wood portions of furniture items like couches and chairs. Windex can be used as a one-off cleaner, but its ammonia content can harm wood in the process.
When it comes to furniture, Windex is best used to clean microfiber couches. The following video shows how great of a cleaner Windex can be.
You don't have to clean wood with Windex. Even if you rarely need Windex for your car windows, there are also multiple uses for it around the house. Your leftover Windex won't go to waste. This video shows 6 household uses of Windex.
People think that spraying Windex will instantly turn wood color or damage its integrity. In reality, careful use of Windex on wood buys you some time. You just need to make sure you don't use Windex excessively. In my estimation, the best way to use Windex on wood is to spray it for surface cleaning and follow it up with another detergent.
The two ways to clean wood are:
Use a wood cleaner and let it sit on the surface for maximum effect. 
Use Windex, then wipe away the glass cleaner with a homemade solution featuring dish soap and vinegar. 
In the second method, Windex is necessary only if the wood surface has a tough patch of dirt. Otherwise, the dish soap solution works just fine. The second method is ideal for when you don't have a wood surface cleaner at home. But after one or two run-ins with a spill or mess on wood, you should have an easy-to-store wood surface cleaner.
Which Windex Is Safe for Wood?
Windex Ammonia-Free Glass Cleaner is safe for use on wood. It is more effective than homemade wood cleaning solutions but isn't as good as a dedicated wood cleaner. The formula is meant to provide a streak-free shine.
I would buy this product if I wanted to have the same cleaner for my car windows and dining table. It can be a cost-effective purchase. But given that my car windows and oven window use up enough Windex, I don't need to get the specific type that I can use on wood as well.
Final Thoughts
Regular Windex does damage wood, but not the way some resources paint it. In most cases, you'll notice streaks or darkening with the careless perpetual use of Windex on wood.
If your wood furniture is expensive, don't take chances with Windex. For the average wood surface, you can use Windex, but you must be quick to wipe it off.
Cedar is one of my favorite wood types because I am tasked with perpetually protecting some of my passion projects. It is one of the most resilient woods out there, and I often find myself wishing that all woods were like Cedar because I cannot really use it for all projects. Cedar wood is used…

---