I usually like to minimize my MDF-cutting burden before getting started with any project. For the most part, I get my MDF cut to size at the store. Still, you cannot expect more than a few vertical or horizontal cuts from the store. For curved cuts, I had to resort to a router. However I did not want to ruin my tools, so I started researching whether using a router on MDF was a good idea.
You can use a router on MDF as long as the router bit isn't a High-Speed Steel one. You need a carbide-tipped bit at a minimum, though a solid carbide one is ideal. MDF's resin adhesive is too tough for the average router bit and can make it blunt.
In this article, you will find out everything you need to know before using a router on MDF. This includes the type of bit you should use and the different MDF board depths at which different router bits lose their effectiveness.
By the end of this post, you'll feel confident about your router bit choice if you choose to use a router in the first place. Let's get started by addressing the possibility and what better way to do that than a video of a router being used on MDF.
I found similar results with MDF when trying to cut with different methods. See 2 of my other articles that explain:
Can You Cut MDF With A Router?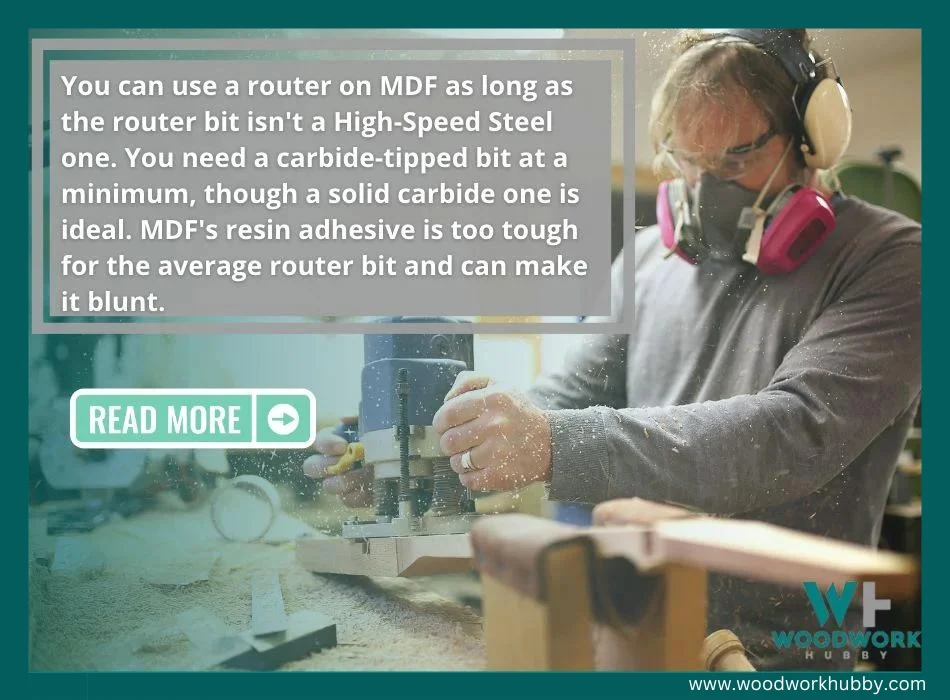 You can cut MDF with a router as long as the router bit is resilient enough to handle the hardened adhesive in the MDF sheet. Otherwise, the router bit would get blunt even though it would cut the MDF according to the routing path.
In other words, you can cut MDF with a router, but the extent to which the router itself stays in shape depends on the material of the router bit. Carbide is the best material, and the carbide flute bit is the best router bit for most MDF sheets. On the flip side, High-Speed Steel (HSS) bits are the worst for MDF sheets as they can start losing their edge within the first two passes at MDF.
HSS bits should not be used on MDF sheets that are thicker than 1/4th of an inch (6.35 mm). Carbide bits should be used if the MDF is more than half an inch in thickness. The better the grade of the MDF, the more important it is to use the right bit. Often, the emphasis on bit selection for MDF routing brings up the effect MDF has on them. It is pretty normal to wonder if MDF will ruin your router bits.
Is MDF Bad For Router Bits?
MDF can be bad for router bits that are not meant to cut wood boards. The adhesive content of the MDF can make router bits blunt. Longer bits coated in carbide retain their shape and cut through the MDF surface more easily.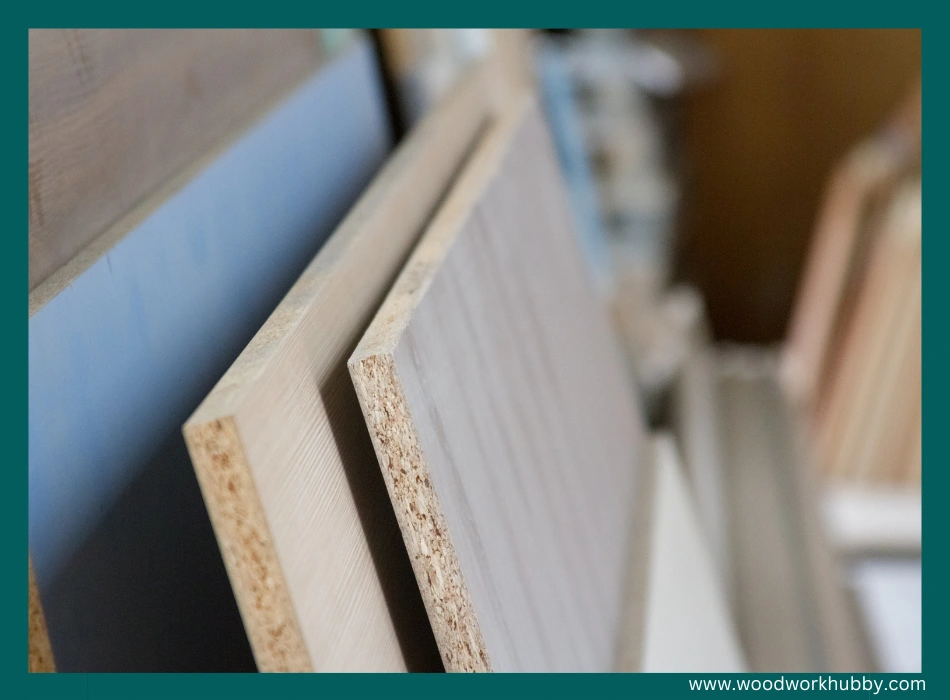 All solid surfaces have some impact on the bit itself, which is why router bits need sharpening after prolonged use. But MDF can have a disproportionate effect on High-Speed Steel bits. I generally tell people that if they need to use a router on a single MDF sheet, they can use carbide-tipped bits. If they want to use a router on multiple MDF sheets, it is better to opt for a solid carbide bit.
Solid Carbide Vs. Carbide-Tipped Bit On MDF
Solid carbide bits are much better on MDF as they can retain function even after becoming blunt. You just need to sharpen a solid carbide bit after it starts losing shape. When a carbide-tipped bit starts to lose shape, though, its carbide coating wears out, and the underlying material is exposed.
This lowers the overall effectiveness of the bit as it is no longer coated in carbide. Aside from the material of the router bit, the depth of the MDF sheet matters. The thicker the MDF sheet, the better off you are using a solid carbide bit.
Thicker MDF has more solid adhesive than the router bit has to contend with. It is this adhesive that makes MDF hard to saw even with power tools. Synthetic resin is used to hold together wood particles in MDF. Not all wood boards have as solid a glue, which means not all of them are equally bad to router bits.
Can You Use A Router On Particle Board?
You can use a router on particle board, but the router bit might get affected by this. The density of particle boards is lower than that of MDF sheets, which means that the router bits would take less damage. Still, using flute bits tipped with carbide is best for such situations.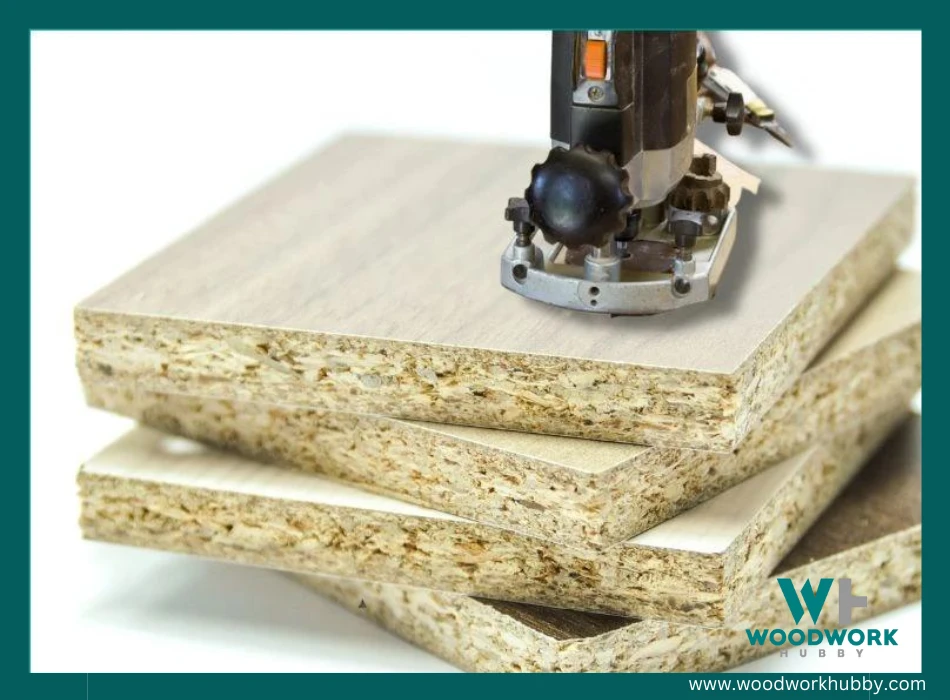 Particle boards have more air gaps than MDF, so the router doesn't have to cut through as much solid material. Moreover, the adhesive type used in these boards is not hardened adhesive resin-like MDF. As a result, particle boards are easier to tear through for router bits.
High-speed steel bits can cut through two to three particle boards before incurring significant damage. The same bits can barely cut through an inch of MDF before getting blunt. While it seems like particleboard is more conducive to routing than MDF, the possibility of chips flying and getting lodged in the router is far higher with particleboards.
The actual particles in chipboards are spaced such that any rotary cutting action can launch hundreds of wood chips in the air. Since these are fine enough to qualify as sawdust, this is usually not a problem. But with tools like routers, which have intricate mechanics, even small chips can cause serious damage.
Almost all lumber produces sawdust, but wood boards with solid chips or adhesives can create a residue that harms power tools. But not all wood boards are built alike. Plywood is a wood board, but it is unlike particle boards in that it isn't made up of pre-existing woodchips. It is also unlike MDF as it doesn't amalgamate wood particles in solidified resin. This might make you wonder if you can use a router bit on it.
Can You Use A Router On Plywood?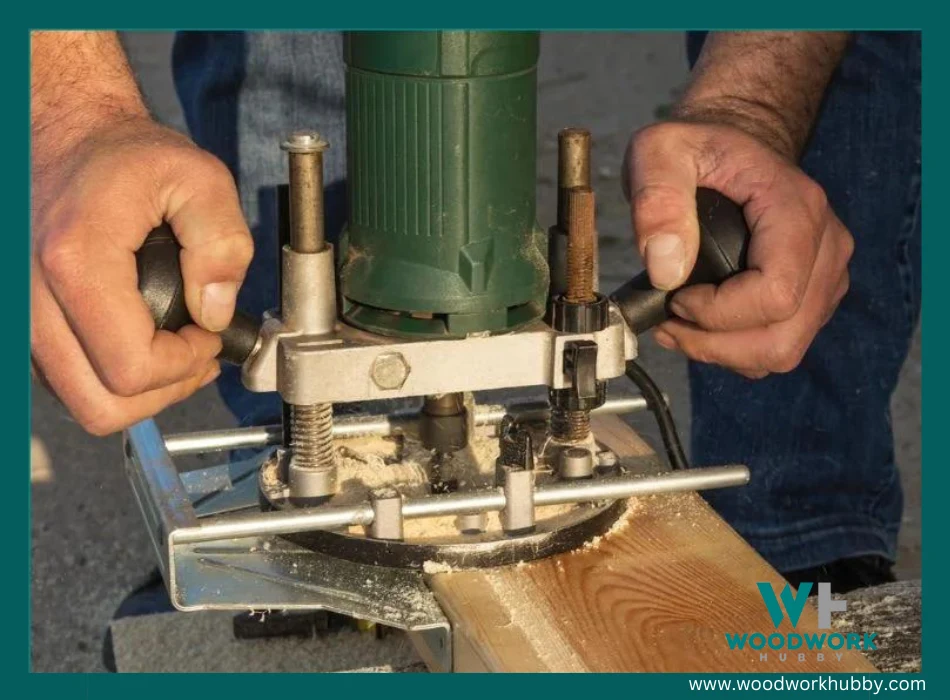 You can use a router on plywood as it can cut plywood very well. The thicker the plywood, the better your bit choice needs to be. Ultimately, all router bits can cut through the most commercially available plywood.
What Is The Best Router Bit For MDF?
The flute bit is the best router bit since it has texture and length that can counter MDF's depth. If the said bit is made from solid carbide, it can contend with MDF's resin adhesive, which can be too rigid for High-Speed Steel.
Final Thoughts – Can You Use a Router on MDF?
You can use a router on most MDF sheets and get passable results. However, you must be mindful of the effect of this choice on the router bit itself. Most router bits made from materials other than solid carbide can't last very long as tools of choice for MDF cutting.