Wood is a timeless and versatile material, but it's no secret that it can be susceptible to damage and decay over time. I have encountered a lot of rotten wood in my 30 years as a woodworker. Here is a list of the top 6 products I have used and have found to work well.
In this blog post, I will help you explore the best wood hardeners available on the market today while providing helpful tips on how to choose and use them effectively.
What Is Wood Hardener And Why Is It Necessary?
A wood hardener is a specially formulated liquid solution used to protect, seal, and strengthen the wood. It plays an essential role in preserving the integrity of various wooden structures and furniture pieces by deeply penetrating the wood's pores and creating a strong bond within its fibers.
The necessity of using a wood hardener becomes evident when you're faced with issues like rot repair, insect damage restoration, or simply improving the overall durability of your woodworking projects.
For instance, imagine noticing signs of decay in your antique wooden cabinet – instead of completely replacing it (which can be quite expensive), you could extend its life by applying an effective wood hardening agent that preserves and strengthens it.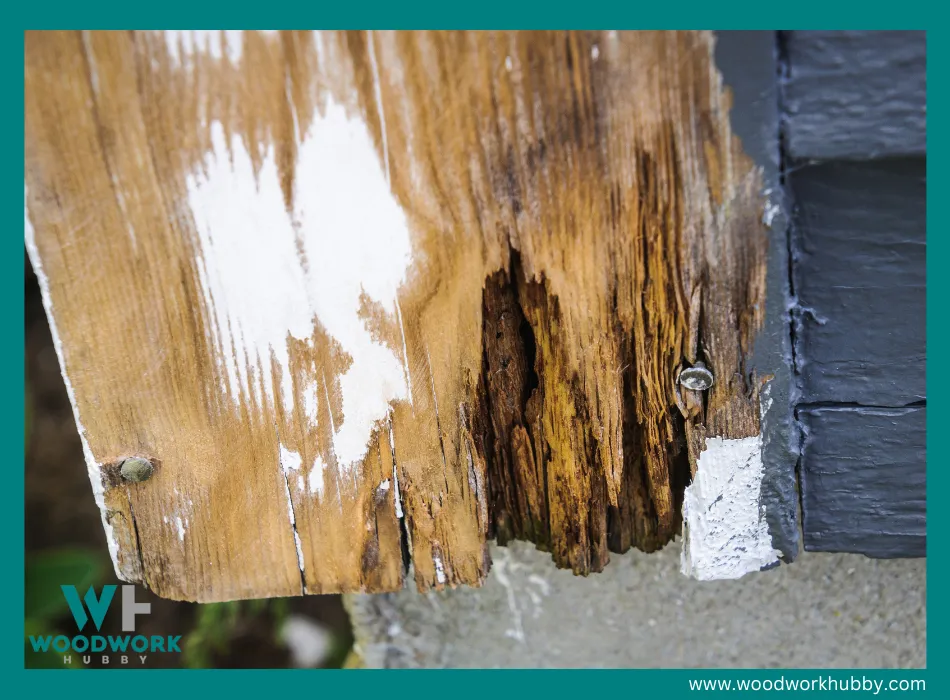 Wood hardeners also offer several additional benefits such as pore filling for smoother surfaces; surface reinforcement for added resilience to wear and tear; waterproofing capabilities ideal for both indoor and outdoor applications; plus decay prevention which ultimately saves valuable time and money on costly repairs.
Top 6 Best Wood Hardeners I Recommend
Quick Recommendation
Take a quick peek at the wood hardeners I have used and can recommend. You can scroll down for more comprehensive reviews.
Minwax High-Performance Wood Hardener
J-B Weld Wood Restore Liquid Hardener
PC Products PC-Petrifier Water-Based Wood Hardener
Abatron WoodEpox Epoxy Wood Replacement Compound
System Three Wood Hardener
Bondo Rotted wood restorer
Comparison Table
| Product | Price | Colour |
| --- | --- | --- |
| Minwax High-Performance Wood Hardener | $18.98 | Clear |
| J-B Weld Wood Restore Liquid Hardener | $11.55 | – |
| PC Products PC-Petrifier Water-Based Wood Hardener | $6.48 | Milky White |
| Abatron WoodEpox Epoxy Wood Replacement Compound | $26.23 | Brown |
| System Three Wood Hardener | $51.95 | Brown |
| Bondo Rotted Wood Restorer | $18.99 | multi-color |
Table showing the different wood hardener properties
1. Minwax High-Performance Wood Hardener
Highlights
Liquid formula for easy application
High-performance wood hardener for durable repairs
Compatible with all types of wood
Can be used as a stand-alone product or in conjunction with wood filler
Clear color for natural – looking finish
Comes in a convenient 1-pint size
As a seasoned woodworker, I've tried numerous products to restore and strengthen rotted or damaged wood. Minwax High-Performance Wood Hardener has consistently outperformed its competitors, which is why it takes the No. 1 spot on my list.
This pint-sized powerhouse seals out moisture, preparing decayed wood for filler application like no other product can. Its deep penetration capabilities not only reinforce the existing fibers but also bind them together, creating a rock-hard base that's ready for lifting.
The Minwax 41700000 High-Performance Wood Hardener works wonders on various surfaces such as windowsills, doors, decks, furniture pieces, and floors. Simply apply this hardener to the affected area and watch it transform even the weakest wooden parts.
My personal experience with this versatile solution has saved me countless hours of repair work; instead of replacing entire sections due to rot or damage, I now have a reliable way to salvage beautiful hardwoods while maintaining their original charm.
In conclusion, if you're in need of an effective treatment for weakened or decaying woodwork, look no further than Minwax High-Performance Wood Hardener.
Features
Seals out moisture to prevent further damage and decay, keeping your wood looking great for longer.
Prepares rotted wood for the application of Minwax High Performance Wood Filler, giving you a complete solution for repairing damaged wood surfaces.
Penetrates deep into decayed wood to strengthen and reinforce it from within, creating a solid base that's able to support weight without breaking or crumbling.
Versatile enough to be used on a range of surfaces including windowsills, doors, floors, decks, furniture and more – making it an ideal all-in-one solution for homeowners and contractors alike.
Its special resin binds and reinforces decayed wood fibers to restore structural integrity while preserving natural beauty.
Prevents further moisture damage to rotted wood
Reinforces and strengthens decayed wood fibers
Creates a rock-hard base
Compatible with various types of woodwork, furniture, decks, and floors
May require multiple applications for severely rotted wood
Strong odor during application
Can be difficult to sand after hardening
This product is perfect for the DIY homeowner who wants to easily restore rotted wood surfaces and prevent further damage. Minwax High-Performance Wood Hardener provides a simple, reliable solution for sealing out moisture and restoring strength.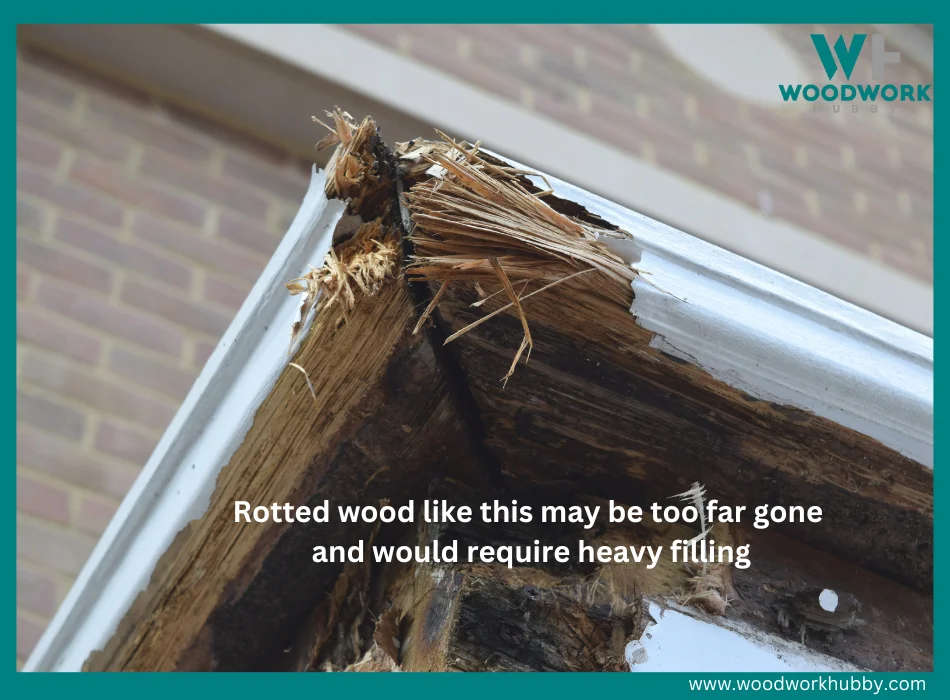 2. J-B Weld Wood Restore Liquid Hardener
J-B Weld Wood Restore Liquid Hardener
Highlights
Strong and durable wood restoration: J-B Weld Wood Restore Liquid Hardener is specially designed to restore and harden damaged or rotted wood.
Easy-to-use liquid form: This product comes in a convenient liquid form that can be easily applied with a brush, roller, or sprayer.
Compatible with all types of wood: J-B Weld Wood Restore works on all types of wood, including softwoods, hardwoods, and composite materials.
Made in the USA: This high-quality product is proudly made in the United States using only the best materials available.
Large volume for multiple projects: With 16 fluid ounces per bottle, you'll have enough J-B Weld Wood Restore to tackle multiple projects around your home or workspace.
Trusted brand name: J-B Weld is a well-known and trusted brand among professionals and DIY enthusiasts alike.
The J-B Weld 40001 Wood Restore Liquid Hardener is an essential solution for everyone, from DIY enthusiasts to professional builders and repair experts. This versatile and dependable 16 oz. liquid hardener breathes new life into decayed or rotted wood surfaces by sealing them, eliminating moisture, and providing a solid base for wood fillers or putties.
As my No. 2 pick in the list, it works wonders on door frames, window frames, eaves, columns, antique furniture – just about any wooden surface you can imagine.
One of the standout features of this product is its simple one-component application process involving no mixing; simply brush it onto the affected area and let it do its magic! Its quick-drying formula penetrates deep into the fibers of decaying wood to reinforce them while stopping further deterioration in its tracks.
The liquid hardener not only helps preserve your valuable possessions but also prepares surfaces for seamless restoration with J-B Wood Filler Compounds—an added bonus that ensures a polished result every time.
In summary, Its easy application process combined with its powerful protective properties earns this multi-purpose solution high praise amongst professionals and hobbyists alike who rely on it for various projects—big or small.
Features
Provides a solid, stable base for wood fillers or putties: J-B Weld Wood Restore Liquid Hardener is designed to penetrate deep into the fibers of wet and rotted wood surfaces, creating a durable foundation for wood fillers and putties. This ensures that repairs last longer and are more effective.
Dries quickly: Unlike other hardeners that take hours or even days to dry, J-B Weld Wood Restore Liquid Hardener dries quickly. This means you can move on to the next step of your project without having to wait around.
Seals rotted wood surfaces: The specialized formula in J-B Weld Wood Restore Liquid Hardener seals off moisture from further penetrating decayed or rotted wood surfaces, preventing further damage. This can save you time and money down the line by avoiding costly repairs.
Versatile & Dependable: Ideal for use on door frames, window frames, sills, sashes, eaves, columns, posts, garages fences antique furniture corner boards, and much more! Whether you're a professional builder or DIY enthusiast tackling home improvement projects around your house – this product delivers results in any setting!
Easy brush-on application with no mix formula: With its quick brush-on application method and one-component formula there really could not be an easier way to restore damaged wooden structures back to their former glory! Just apply according to package instructions – no need for complicated mixing ratios or special tools!
Provides a solid base for wood fillers or putties
Seals rotted wood surfaces and reduce moisture
Easy one-component application with a quick drying time
Versatile and ideal on various surfaces such as furniture, fences, and more
Doesn't work effectively on extremely damaged or crumbling wood surfaces
Requires additional filler or putty to fully repair and restore the wood
Not recommended for use on painted or varnished surfaces as it may affect the finish
Seems more like a semi-plastic film rather than a rotted wood restorer
This product is ideal for carpenters, mechanics, builders, and DIYers who need to repair rotted wood surfaces.
It provides a strong bond with quick-drying liquid that seals and reinforces decayed or rotted wood; reducing moisture in the areas where putty is needed. Get J-B Weld Wood Restore Liquid Hardener today to get the job done right!
3. PC Products PC-Petrifier Water-Based Wood Hardener
Highlights
Water-based formula for easy application and cleanup
Hardens and strengthens damaged or rotted wood
Can be sanded, painted, or stained once dry
Resistant to water, insects, and mildew
Made in the USA with high-quality ingredients
Suitable for both indoor and outdoor use
This incredible product is designed not only to improve the hardness of damaged wood but also to minimize its removal. It's an excellent choice for preparing your wood surfaces for filling, priming, and painting.
The application process is hassle-free; simply brush, spray, or inject the liquid into the pores of the wood for instant results.
One key advantage of this milky white formula is that it seeps deep into soft, rotted fibers—restoring them close to their original structural integrity. By treating decayed window sills, sashes, frames, or even decorative beams with this potent hardener, you can effectively prolong their lifespan while protecting exposed grain from further damage.
I picked PC Products PC-Petrifier Water-Based Wood Hardener as No. 3 on my list because while it may not be suitable for some structural repairs—including instances where a heavy-duty solution like PC-Rot Terminator would be required—it still delivers exceptional results in most cases.
Features
Water-Based Formula: The water-based formula of PC Products PC-Petrifier makes it easy to clean up and has less odor than other wood hardeners. Plus, it's environmentally friendly.
Saves Damaged Wood: Instead of removing damaged wood, use this product to improve its hardness and save money on expensive replacements.
Easy Application: With no mixing required, you can simply brush, spray or inject the liquid into the pores of the wood for quick repairs.
Prepares Wood for Finishing: After using PC-Petrifier, your wood is ready for filling, priming, and painting. This saves time and allows you to achieve a professional finish with ease.
Repairs Insect and Rot Damage: Protect your wooden structures from further damage caused by insects or rot with the long-lasting repair solution provided by this product.
Easy to clean up with water
Creates a smooth surface for priming and painting
Dries overnight
Can simply squirt on the surface and brush into place like spreading water
Soaks into the wood easily
Hard to use on vertical surfaces
Can darken the wood slightly especially on lighter woods
Doesn't totally harden wood
Takes multiple applications
This product is perfect for anyone interested in preserving and restoring their wooden surfaces. It's easy to use, making it a great choice for DIY projects from woodworking beginners to experienced craftsmen.
4. Abatron WoodEpox Epoxy Wood Replacement Compound
Highlights
Epoxy wood replacement compound that restores and rebuilds damaged or rotted wood
Water-resistant formula for long-lasting repairs in both interior and exterior applications
Easy-to-shape putty consistency allows for versatile use in various types of repair projects
Compatible with epoxy material for seamless integration into existing structures
Durable strength and flexibility provide stability against future deterioration or wear-and-tear
High-quality brand trusted by professionals and DIYers alike for over 30 years
This 12 oz kit contains two parts – structural epoxy adhesive filler and wood filler putty that when combined, provide unparalleled bonding strength without shrinking or cracking. Designed for exterior and interior repairs alike, the WoodEpox addresses damages caused by weather, moisture, age, or pests with ease.
What sets Abatron's WoodEpox apart from ordinary wood fillers are its versatility and environmentally-friendly nature. The GREENGUARD certification ensures minimal VOCs (volatile organic compounds) which translates into low odor and no solvents needed – making it safe for users as well as the environment.
Features
Structural Wood Filler: Abatron WoodEpox is a two-part structural epoxy adhesive filler that can be used to fill and rebuild missing sections of damaged wood. This means you can repair windows, doors, trim, columns, posts, and other elements with ease.
Shrink-Free Repairs: Unlike other wood fillers on the market that tend to shrink or crack over time – making them ineffective for long-term repairs – WoodEpox creates structural, shrink-free repairs that mimic the original wood.
Resistant to Damage: Once cured, Abatron WoodEpox is resistant to further damage by water, pests, and UV rays. This makes it an ideal solution for both exterior and interior repairs that need to withstand harsh environmental conditions.
Environmentally Friendly: As a clean product certified by GREENGUARD (low VOCs), WoodEpox has little-to-no impact on the environment or user's health. Plus its low odor formula means applying it won't result in overwhelming smells in confined spaces like homes or offices.
Easy-To-Use & Versatile: Abatron WoodEpox has a pot life of 20-30 minutes which allows plenty of working time before drying out – avoiding wasted products.
Easy to use – 20 to 30 minute working time
Long shelf life
Sands and routs easily
Shrink free repairs
More expensive than other wood fillers
Harder to mix
Takes longer to cure than other products
Can't stain over it
The Abatron WoodEpox Kit works well but is a bit harder to use.
5. System Three Wood Hardener
Highlights
Ideal for restoring damaged or rotten wood.
Waterproof and provides long-lasting protection against decay, insects, and other damage.
Easy-to-use putty form allows for precise application and filling of voids in the wood.
Compatible with all types of wood surfaces and can be stained or painted over when dry.
Large 24 – Ounce size is perfect for big projects or multiple repairs.
Manufactured by System Three Resins with a proven track record in the industry.
As a seasoned professional in-home repairs and renovations, I've seen my fair share of wood damaged by rot. That's where System Three Wood Hardener comes in as a game-changer.
One of the things I love about this product is its user-friendly measuring application bottle included with each 24-ounce kit. You can accurately measure, mix and apply Rot Fix in batches from 2 ounces to 7 ounces without any fuss.
Features
Unique measuring application bottle included for easy and accurate mixing of the product: With System Three Wood Hardener, you don't have to worry about getting the right measurements. The kit includes a specially designed measuring application bottle that ensures you get perfect ratios every time.
Penetrates deep into deteriorated and rotted wood: This powerful wood hardener goes deep into the damaged wood fibers, creating a solid base for repair and restoration work. It strengthens the weakened areas so that they can support new filler putty or other materials used in restoring your woodwork.
Creates waterproof base for repair and restoration filler putty: When applied correctly, System Three Wood Hardener creates an impenetrable barrier that protects against moisture penetration. Your repaired areas will be strong enough to withstand severe weather conditions.
Easy-to-use low-viscosity epoxy sealer, primer, and consolidate for wood: Unlike many other products on the market which require expert knowledge to use correctly, this item is designed with ease-of-use in mind. Simply apply it onto your surface using a brush or roller – it's that straightforward!
Ideal for Rot Fix wood restoration repair: Whether you're dealing with small localized damage or larger scale repairs here also System Three Resins Rotfix Wood Restoration Rot Repair provides users with exceptional flexibility as well as durability.
Waterproof
Includes measuring bottle
Creates a hard surface once cured
Low viscosity so it fills all small cracks
More expensive than other wood fillers
A little messy to use
Can get hot when mixing it
Does not work well on damp wood
System Three Wood Hardener is an easy-to-use quality epoxy sealer that penetrates deep into rotted wood providing a strong base for restoration.
6. Bondo Rotted Wood Restorer
Highlights
Repairs rotted wood quickly and effectively
Easy to use, no mixing required
Dries fast for a smooth finish
Can be painted or stained after drying
Suitable for indoor and outdoor use
Restores structural integrity to damaged wood surfaces
Bondo Rotted Wood Restorer stands out among them due to its impressive performance and ease of use. This 8 fl oz multi-color liquid is designed to penetrate deep into spongy, dry-rotted wood fibers and create a solid surface for further repairs.
I used this product on an old windowsill in my home that had suffered from years of exposure to moisture; after applying the restorer, I was impressed by how it not only hardened the rotted areas but also provided a strong foundation for the next step – using Bondo Wood Filler.
With its ability to provide homeowners with an affordable solution for tackling wood rot issues head-on, Bondo Rotted Wood Restorer has quickly become one of my top recommendations when it comes to restoring damaged wooden surfaces.
Its easy-to-use formula ensures even those who aren't professional handymen can find success in repairing their beloved antiques or precious home features. Give your furniture and fixtures a fighting chance against time by investing in this exceptional product today!
Features
Water resistant: Bondo Rotted Wood Restorer is water-resistant, making it perfect for outdoor furniture and other items that are exposed to the elements. You can trust that this product will provide long-lasting protection against moisture damage.
Provides a solid base for the application of Bondo Wood Filler: This product creates a solid surface for the application of Bondo Wood Filler, allowing you to make repairs quickly and easily. The combination of these two products provides an unbeatable solution for wood rot repair.
Stainable and paintable: After using Bondo Rotted Wood Restorer, your repair will be completely stainable and paintable. You won't have to worry about unsightly patches or discoloration on your wood surfaces.
Elegant and smooth finish: This product creates an elegant and smooth finish on your repaired wood surfaces. Your repair work will blend seamlessly into the surrounding woodwork, leaving you with beautiful results every time.
Stabilizes spongy, rotted wood fibers: With its stabilizing properties, Bondo Rotted Wood Restorer penetrates deeply into spongy, dry-rotted wood fibers creating a hard surface. This means that even severely rotted areas can be salvaged with this amazing product!
Dries clear in 2 hours
Provides for a paintable surface
Can use wood filler over it
Water-resistant
Quite smelly
Goes hard around the lid after use
Very little viscosity – hard to use on vertical surfaces
A little expensive
Bondo Rotted Wood Restorer penetrates into spongy, dry-rotted wood fibers creating a solid surface that is both water-resistant and stainable.
Factors To Consider When Choosing A Wood Hardener
Consider the type of wood, severity of the damage, indoor or outdoor use, drying time, the application process, and chemical composition when choosing a wood hardener – read on to discover how to pick the best one for your needs.
Type Of Wood
One of the first factors to consider when choosing a wood hardener is the type of wood you'll be working with. Different types of wood will have varying levels of porosity, hardness, and density, which can significantly affect how well a particular hardening product will perform.
Understanding the composition and characteristics of your chosen wood type is crucial for achieving optimal results when using products like epoxy wood hardeners, wood stabilizers, or even rot-resistant treatments.
For instance, some woods are naturally resistant to rot and may not require additional preservation treatments; in contrast, others may benefit from applying a sealer or conditioner that works well with that specific species.
Severity Of Damage
Evaluating the severity of damage is a crucial step in selecting the right wood hardener for your project.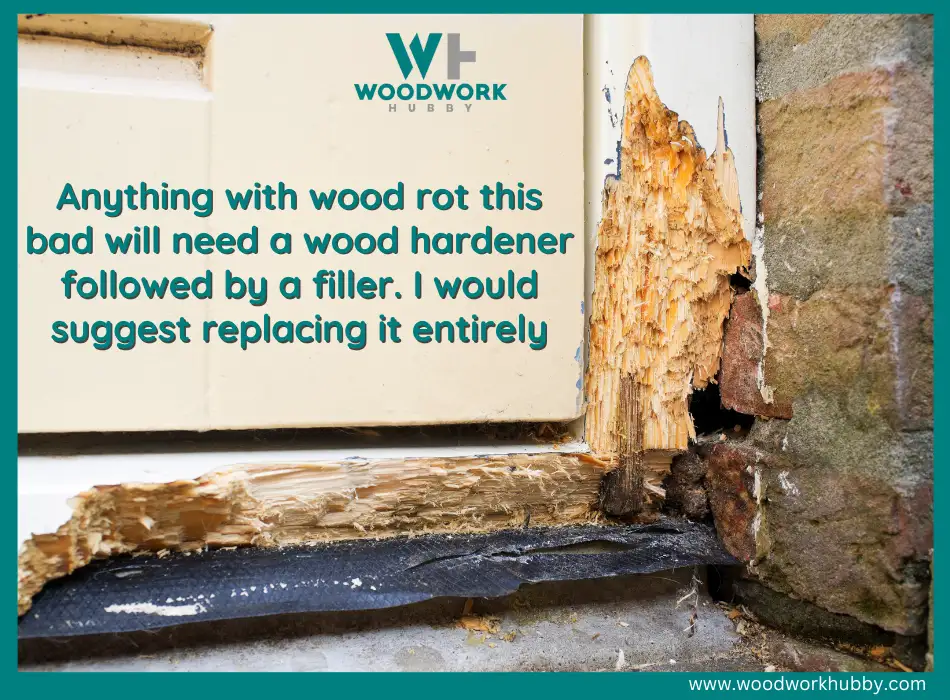 For instance, if you have minimal cracking and surface damage, a simple wood sealer may suffice to protect and preserve your wooden surfaces.
However, more pronounced issues like deep-rooted rot or crumbling fibers call for stronger solutions like epoxy resins or high-performance hardeners such as Minwax High Performance Wood Hardener or LiquidWood.
These products penetrate deep into the wood fibers, permanently hardening decayed and weathered wood to restore its structural integrity and strength.
Indoor Or Outdoor Use
As you consider the best wood hardener for your project, it's important to think about whether it will be used indoors or outdoors. Exposure to the elements can cause damage to wood over time, especially if it is not treated properly.
Outdoor use requires a wood hardener that has excellent durability and resistance against water, sunlight, and temperature changes. For example, PC-Petrifier Wood Hardener is an excellent option for outdoor use as it successfully resists decay caused by insects and moisture.
On the other hand, indoor use allows for more flexible options when choosing a wood hardener since protection from environmental factors isn't necessary.
Drying Time
As a professional copywriter with an in-depth knowledge of wood hardeners, I can confidently say that drying time is one of the most important factors to consider when choosing the best wood hardener.
Faster-drying wood hardeners are incredibly beneficial, especially if you're working outdoors or looking to complete your project quickly. For example, Minwax® High-Performance Wood Hardener is formulated with fast-drying technology and takes only two hours to dry completely.
Application Process
Before applying any wood hardener product, it is important to prepare the surface of the damaged or rotting wood properly.
This involves removing any loose debris or flaking paint from the area using sandpaper or a wire brush.
It is important to note that when using wood hardeners, safety should always come first. Be sure to wear protective gloves and eye gear when handling these chemicals as they can be harmful if ingested or come into contact with skin or eyes.
Chemical Composition
As a professional woodworker and DIY enthusiast, I know that the chemical composition of a wood hardener is crucial in determining its effectiveness. The ingredients used in making the solution can affect its bonding properties, strength, and durability.
For example, some wood hardeners contain epoxy resins, which offer excellent moisture resistance and superior adhesive properties.
When selecting a wood hardener, it's essential to consider its chemical composition carefully based on your project's needs. For instance, if you're repairing outdoor furniture or structures exposed to harsh weather conditions or high humidity levels, opt for a product with excellent moisture resistance such as Bonda Wood Hardener.
Remember always to read the label carefully before purchasing any wood hardening products; this will help you make an informed decision regarding which one suits your particular project best!
How To Use Wood Hardener
To use a wood hardener, start by prepping the surface with sandpaper and removing any loose or decaying wood. Then, apply the hardener using a brush, roller, or spray bottle in a well-ventilated area.
Allow it to dry completely before applying any additional coats or finishes.
Surface Preparation
Before using a wood hardener, it is crucial to prepare the surface of the damaged wood properly. Here are some steps to follow:
Remove any loose or rotting wood with a chisel or scraper.
Use sandpaper or a wire brush to remove any dirt, debris, or old paint that may be on the surface of the wood.
Clean the surface with a damp cloth and let it dry completely.
Sand the surface lightly to remove any rough spots and open up the pores of the wood.
Apply the wood hardener with a brush, working it into the pores of the wood.
Let it dry completely before applying any filler, primer, or paint.
By properly preparing the surface of your damaged wood, you ensure that the wood hardener can penetrate deeply and effectively reinforce and strengthen your weakened wood.
Application Techniques
One of the most important aspects of using wood hardener is the application process.
Here are some techniques to keep in mind that have worked for me:
Surface Preparation: Before applying the wood hardener, make sure to clean and dry the surface of the wood. Remove any loose or rotted parts of the wood with a chisel or scraper.
Brushing: Use a brush to apply the wood hardener onto the surface of the wood. Make sure to apply an even coat and work it into any cracks or crevices.
Pouring: For larger areas, pouring the wood hardener directly onto the surface may be more efficient. Use a spreader tool to ensure even distribution.
Injecting: For smaller areas or deep cracks, injecting the wood hardener directly into the affected area may be necessary.
Sanding and Finishing: After allowing sufficient drying time (refer to specific product instructions), sand down any rough spots on the surface before applying a finish.
Safety Tips: Always wear gloves and protective eyewear when handling any type of chemical product like wood hardeners.
Relevant Facts:
LiquidWood® can be applied by brushing, pouring, or injecting directly onto dry, bare wood.
The article warns against using latex gloves with certain brands.
Rust – Oleum Varathane Wood Hardener is mentioned as a product that penetrates into wood surfaces and reinforces old wood fibers.
The article contains a comprehensive buyer's guide on choosing safe and effective wood hardeners for various needs.
The author recommends Minwax high-performance wood filler after using a wood hardener for rotting or damaged wooden surfaces.
Sanding And Finishing
To get the best results when using wood hardener, it is essential to take sanding and finishing seriously. This is the process I use and works well on most surfaces.
Here are some tips for sanding and finishing your wood after using a wood hardener:
Sand the surface of the wood before applying the wood hardener: Using 120 grit sandpaper ensures that any rough spots or protrusions are removed from the surface of the wood.
Apply Wood Hardener generously with a brush: A bristle brush is recommended for the application of Wood Hardener. It should be applied in a generous quantity to ensure that it penetrates deep into the fibers.
Allow the Wood Hardener to dry completely: This typically takes between 12-24 hours, depending on temperature and humidity levels.
Sand again to remove any raised grain: After drying, use a piece of fine sandpaper (400 grit) to remove any raised grains that have formed.
Finish with a layer of sealer or coat of paint: Depending on whether you want to preserve or decorate your restored wood, you can either seal it with wax or polyurethane or put a stain or paint over it.
By properly following these steps when sanding and finishing your treated wood, you will have an impressive result worth admiring for years to come!
Safety Tips
As a professional woodworker, safety comes first whenever I'm working with wood hardeners. Here are some important safety tips to keep in mind when using wood hardeners:
Always wear protective gloves and eye or face protection when handling wood hardeners as they may cause skin or eye irritation.
Work in a well – ventilated area or use respiratory protection as some wood hardeners may produce toxic fumes when applied.
Keep containers of wood hardeners tightly closed to prevent spills or leaks that can cause fire hazards.
Avoid smoking, open flames, sparks, hot surfaces or other ignition sources near the work area to minimize fire risks.
Never mix different brands of wood hardeners as this may affect their quality and performance, and could also result in hazardous chemical reactions.
Dispose of rags, brushes, and other used materials properly after use as they may be flammable due to residual chemicals.
By following these safety tips, you can ensure a safe working environment when using wood hardeners for your woodworking projects.
Pros And Cons Of Using Wood Hardener
Using wood hardener can be an effective solution for restoring damaged or rotten wood, but it's important to consider its pros and cons before making a decision. In this section, we'll explore the advantages of using wood hardener, such as offering structural reinforcement and preventing further decay.
However, we'll also delve into some of the potential drawbacks of using these products, including their harsh chemical composition and limitations in certain situations.
Advantages
Using a wood hardener offers several benefits, including:
Restoring Rotted Wood: A wood hardener can help restore rotted wood and prevent further decay, extending the life of wooden structures.
Preserving Wood: By penetrating deep into the wood fibers, a wood hardener can preserve the aesthetics and structural longevity of wooden surfaces.
Compatibility With Fillers: After using a wood hardener, you can fill in any remaining cracks or holes with compatible fillers for a seamless finish.
Protective Coating: Some wood hardeners leave behind a protective coating that safeguards against environmental factors, such as moisture and UV rays.
Safe Options Available: There are several safe options available in the market that do not cause harm to people, animals, or plants.
Damage Repair: Wood hardeners make it possible to repair minor damage before it becomes more severe.
Overall, using a wood hardener is an effective way of protecting your wooden structures and bringing them back to life.
Disadvantages
Using wood hardeners has both benefits and problems. Here are some significant disadvantages of using a wood hardener:
One disadvantage of using a wood hardener is that it does not go along with other fillers. If the user plans to apply filler before applying the hardener, they will need to sand down the hardened area first.
Another disadvantage is that one-part wood hardeners are unstable in long-term exposure to moisture. This means they might not be suitable for outdoor projects or areas where moisture content is high.
High toxicity is a big disadvantage of some wood hardeners, which can be dangerous to health and the environment. Some contain toxic chemicals such as formaldehyde, which can cause skin irritation, dizziness, and headaches.
Protective gear like rubber gloves and a mask are required when using certain types of wood hardeners, adding an additional layer of inconvenience and expense for users.
Finally, although wood-hardened surfaces can be sanded down prior to painting or varnishing, it still requires time and effort on behalf of the user, making it less ideal for those seeking quick DIY fixes.
Despite these disadvantages, if used carefully with adequate knowledge about how they work and necessary safety precautions in place, wood hardeners remain an effective method to preserve rotted/decayed woods by consolidating them into harder surfaces that protect against further deterioration.
Conclusion – Best Wood Hardener
In conclusion, restoring damaged or rotted wood can be a challenging task, but with the right product, it can be accomplished quickly and efficiently. The Minwax High-Performance Wood Hardener is my top recommendation for its incredible strength, easy-to-use liquid formula, and compatibility with all types of wood.
For those on a budget, J-B Weld Wood Restore Liquid Hardener is an excellent alternative that offers strong and durable restoration at an affordable price point. Whichever product you choose, remember to consider factors such as the type of wood you are working with and whether it will be used indoors or outdoors.
FAQs:
1. What is a wood hardener?
A wood hardener is a type of product that fills in and strengthens decayed or damaged areas in wood, making it strong and durable again.
2. How do I choose the best wood hardener for my project?
When choosing a wood hardener, consider the type of damage to your wood and the overall condition of the piece you are working with. Look for products with good adhesive properties that can fill deep voids to ensure maximum strength.
3. Can I use a wood hardener on all types of wood?
Most commercially available penetrating epoxy products can be used on all types of woods, including hardwoods like oak and softwoods such as pine or spruce.
4. What safety precautions should I take when using a wood hardener?
It is important to wear proper protective gear when using any chemicals, including gloves, goggles, long sleeves, and pants. Additionally, make sure there is adequate ventilation while applying these products indoors so as not to inhale fumes from curing agents or solvents commonly found in some formulations.